Architecture
---
Our design experience can take any project from an idea to reality. From residential housing and renovations to large scale developments, we have worked on many projects, including residential, commercial, industrial, facility, and corporate work, some of which was completed  at other firms or as part of a design team. The projects below only represent a few of the projects that were done completely in house. Our design team can do complete drawing sets or as little as producing shop drawings, or even just getting your designs developed enough to help you complete a feasibility study.
The design for this clubhouse was driven by a private gated community and took cues for its final form from the existing homes in the area. Available for party's and meetings, the clubhouse has a large central space with a fireplace, a large open kitchen, 2 offices, a workout room and a game room complete with a pool table. The building is located at the edge of a lake and provides a patio in the back with a perfect view of the lake. The clubhouse has a parking lot in front, but successfully maintains the desired neighborhood feeling.
Located at the entrance to the same community as the Clubhouse above, this office building specifically designed for Dr. Bruce L. Manning, O.D. & Associates, has 7 private exam rooms, offices, file storage, childrens' play area, a large showroom, and a lab on the first floor. The large basement was designed with a very large window to let more light than typical into the extra height space which contains a full lense lab, large storage area and an employee break room with a kitchen. The overall design incorporates the look and feel of the surrounding neighborhood, while easily being identified as a place of business.
This basement design features cutting edge electronics with a 7.1 surround sound system and lighting zones that are fully adjustable for any mood. A mixture of stone, slate and wood create various areas that signify different uses such as the media area, the bar and the wine cave. A new radiant heat floor helps keep this space warm in winter and the slate floor keeps it cool in the summer. A 1/2 bath was added with a wood feature wall and a cherry wood counter top. The wet bar features concrete countertops with a custom wood liquor shelf with lcd lighting which is also integrated into the front of the travertine bartop area. A wine cellar or "The Wine Cave" was integrated under the stairs to utilize an otherwise wasted space. The homeowners requirements also included an art wall, so specific lighting was integrated to provide a gallery style feel.
This residence had a very small kitchen, no bathroom on the main level, and poor kitchen layout. The redesign now includes an addition that includes a bathroom, mud room entry off a wood deck, and a redesigned kitchen triangle to increase its usefulness. A skylight was added and windows were moved and added to help bring in much needed light. A deck was also added to the rear entry with a new door orientation that allowed for an entry complete with coat storage. The bathroom above the kitchen was also gutted and redesigned to create a more efficient and relaxing retreat.
The remodel for this kitchen involved taking a small kitchen, adding a bathroom, and opening it up to the attached dining room. We were able to cleverly add a 1/2 bath within the footprint of the kitchen, but having it entered from the stairwell that leads to the second level. This allowed for recessing a larger refrigerator without restricting the flow of the kitchen. Reconfiguring the kitchen entry from a door to an opening, we were able to create additional counter space as well as making the kitchen more a part of the dining room. The overall design was driven by making the kitchen modern, while keeping with the historical style and feel of the almost 100 year old home.
This home had a very small kitchen that needed a major overhaul. Removing some walls, we were able to create a larger open kitchen plan, complete with a 1/2 bath at the rear entry to the house. With a much more efficient layout, there is room for a breakfast area when the full dining room isn't needed. All utilities were relocated and the orientation of the entire kitchen was redesigned.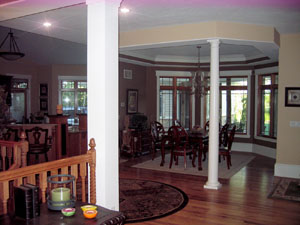 Custom Home (Hudson, OH)
The 3,200 sq. ft. main home was designed with luxury as a focus. A large multimedia and game room is cleverly hidden in one branch of the basement. A wine cellar complete with a bottling area in the basement is situated near a large bar area. A spacious open kitchen gives a very inviting sense to guests. There are 3 bedrooms with the master bedroom having a his and hers walk in closet, also with a large luxurious bathroom. This home was designed with an in-law suite that is separate from the main house but accessible by hidden hallway between the basements.It has a full kitchen and a living room. There is a 3 car attached garage on the main house and even the in-law suite has its own garage.